9 tags
Alahverdian's Habeas Corpus Action Filed in Ohio...
Read the habeas action by clicking here May 6, 2013 COLUMBUS, Oh. — Late Friday afternoon, Eric J. Allen filed a habeas corpus action in the Supreme Court of Ohio on behalf of Nicholas Alahverdian. Alahverdian was falsely accused of two misdemeanor sex allegations in 2008.  The case, numbered 13-0698, alleges seven grounds on which Alahverdian should be released from the custody of the Dayton...
11 tags
9 tags
Alahverdian vows fight won't stop until "innocence...
May 1, 2013 DAYTON, Oh. — Judicial reform advocate Nicholas Alahverdian is continuing his fight against Dayton Municipal Court Judge Carl S. Henderson, Mary Grebinski, and others as he works to exonerate himself from false, unproven allegations by Grebinski. He also announced plans to create the Ohio Justice Institute, a dynamic think tank devoted to reforming the Ohio judicial system through...
8 tags
NEW: Federal Lawsuit Filed Against Accuser Mary...
DAYTON, Oh. —  Nicholas Alahverdian, former Harvard student and Rhode Island youth advocate filed a civil lawsuit yesterday in the United States District Court charging that Mary Grebinski and her boyfriend Nathan Lanning threatened him as a result of the filing of another lawsuit. U.S. Magistrate Judge Michael R. Merz granted Alahverdian's motion to proceed yesterday and the case is now active on...
3 tags
11 tags
NEW: Alahverdian Asks U.S. District Court to Halt...
DAYTON, Oh. — After asking Dayton Municipal Court Judge Carl S. Henderson to pause the sentence while a federal court analyzes his claims, Nicholas Alahverdian filed a motion today for a temporary restraining order in federal court. Henderson denied Alahverdian's request on April 24th. This comes after Alahverdian filed a lawsuit in the United States District Court for the Southern District...
18 tags
Evidence Found Verifying Sinclair Police Officer...
DAYTON, Oh. — An appellate court document has been found to substantiate Kenneth Quatman's firing from the Dayton Police Department. Kenneth Quatman, the only person and only individual other than Nicholas Alahverdian's accuser to testify during the bench trial, was fired as a police officer in 2004 for a pattern of dishonesty and lying. Under the United States Supreme Court...
6 tags
Statement by Nicholas Alahverdian at a Press...
April 17, 2013 Click here to read the lawsuit. Good morning. I stand here today as a United States citizen who was blatantly deprived of basic and fundamental constitutional rights by the Dayton Municipal Court and Judge Carl S. Henderson. Five years ago, serious, life altering false allegations were made against me by an individual at Sinclair Community College. Later, this individual...
8 tags
PRESS RELEASE: Federal Lawsuit Filed Today Alleges...
DAYTON, Oh. —  Nicholas Alahverdian, former Harvard student and Rhode Island youth advocate today filed a civil lawsuit in the United States District Court charging that the City of Dayton Municipal Court has unconstitutionally deprived him of his right to a jury trial. This case stems from a false allegation made by a Sinclair student in January 2008. Alahverdian was falsely charged with two...
5 tags
Statement on this so-called sex controversy in...
to my friends and supporters: Allow me to clarify a couple of things about this so-called sex controversy which has been going on for over five years. This was all trumped up by a girl I met in a cafeteria in Dayton, Ohio in 2008. We kissed in a hallway after lunch, and later on, after her boyfriend found out, she went to the cops where her alternative story that she obviously made up was that I...
8 tags
5 tags
3 tags
5 tags
7 tags
9/28/12 State House Press Conference Statement
Joined by Rep. Doreen Costa and Rep. Mike Chippendale Good Morning: Today we meet nearly two years after Representative Bob DaSilva boldly introduced legislation to halt the reprehensible practice of placing Rhode Island orphans in out of state placements. Within the past week, we have seen progress in my federal court case against RI DCYF for events that occurred following my employment with...
2 tags
Jeremiah's record should be probed
This op-ed appeared in The Providence Journal on April 24, 2012. Jeremiah S. Jeremiah, former Chief Judge of the Rhode Island Family Court, is a defendant in Alahverdian v. Rhode Island, a case pending in the U.S. District Court for the District of Rhode Island. By Anne Grant The Journal's Tracy Breton reports that two Rhode Island lawyer-legislators have introduced a bill to honor retired...
"A hard lesson in what a state can do to a kid"
By Bob Kerr Published April 20, 2012 in The Providence Journal     It's hard to understand why my friend Nick ‍Alahverdian‍'‍s story hasn't resonated with more people and led to more needed changes. Perhaps it's because he has been too much his own advocate, worked the State House too diligently, been too articulate in defining the state's failures.    One thing is certain: What happened to...
DaSilva reintroduces bill to keep kids under DCYF...
STATE HOUSE – Rep. Roberto DaSilva (D-Dist. 63, East Providence, Pawtucket) has reintroduced a bill this week that would keep more children in the Department of Children, Youth and Families (DCYF) care in Rhode Island. The bill (2012-H 7135) would require Rhode Island Family Court and DCYF to allow state service providers the opportunity to develop an individual treatment plan for any child in...
11 tags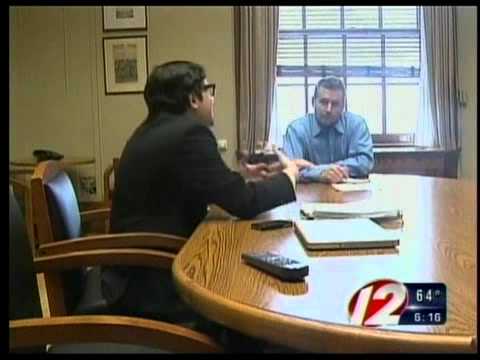 7 tags
Thomas Wolfe: the Southerner, the Existentialist
© 2011 Nicholas Alahverdian      Thomas Wolfe, an author in the Southern Literary Renaissance, was not like the Southern writers that preceded him. These foregoing authors focused on historical romances, purportedly valiant efforts by Confederate soldiers, and the antebellum Southern condition. This historical writing, firmly rooted in the traditionally Southern rhetorical style (a method, as...
28 tags
My Take on the Penn State Abuse Crisis
Earlier this month, in a remarkable demonstration of accountability, the Penn State Board of Trustees dismissed a member of the coaching staff who, in 2002, committed sexual assault upon a child and colleagues who assisted in the subsequent coverup. Perhaps the most exalted figure in college football, head coach Joe Paterno, was ousted as a result of his failure to report the rape, which allegedly...
The Art of a City
My personal living preference involves a striking skyline, a cutting-edge public transportation system, an airport close to the city, and an extensive swath of choices of museums and galleries. As more and more Americans choose to move to simulated communities, or suburbs, the aforementioned entities become overlooked and under-appreciated. Many people seem to be comfortable being surrounded by...
5 tags
The Affliction of Overpopulation in Academia
Steadily growing to 7 billion people, the population of the world is exceptionally frightening. As global unemployment rises and the job market is saturated with candidates, it is becoming increasingly competitive to attain and maintain employment. Of particular interest to me is the job market serving academia. This specific market is hyper-saturated with mediocre candidates. Colleges have seen...
on wealth
Carnegie's "Wealth" essay is reminiscent of the belief that it is ethically advantageous to be poor in a rich nation than it is to be rich in a poor nation. Every age has faced the quarrel of individual wealth distribution, and the associated decisiveness is no small task to handle. From an ethical perspective, it is imperative that those who are more fortunate assist those in...
Photos of Nicholas Alahverdian →
These photos have been released in conjunction with requests from various media outlets. They include photos of Nicholas Alahverdian with many leaders in government, academia, entertainment, and the community at large. 
4 tags
A survivor tells the story of kid dumping
Note: this article was written in 2002, long before Alahverdian was sent out of state. Now you see why he was considered a publicity threat and also why those responsible had to send him far away, under lock and key and with massive doses of Thorazine, to shut him up. Bob Kerr 24 November 2002 The Providence Journal © 2002 Providence Journal/Evening Bulletin. All Rights Reserved. As Nicholas...
6 tags
Nicholas Alahverdian and Nobel Prize Winner Seamus...